STEPHEN GUTMAN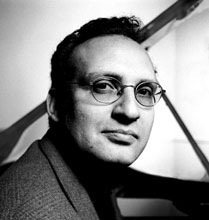 Stiven Gutman jedan je od najboljih i najkreativnijih britanskih interpretatora savremene muzike. Posle završenih studija na Royal College of Music, osvojio je I nagradu na dva značajna pijanistička takmičenja: Brant Competition i British Contemporary Piano Competition. Premijerno je, u Velikoj Britaniji, izveo dela kompozitora kao što su Birtvistl, Ligeti, Šnitke, kao i mnogih drugih. Poručio je dela od kompozitora kao što su Anderson, Finisi i Holt. Nastupao je širom Evrope, kao i u Japanu i SAD-u. Trenutno je profesor klavira na Guildhall School of Music and Drama u Londonu, a bio je i saradnik za savremenu muziku na Royal Northern College of Music u Mančesteru. Snimao je za Metronome, NMC i Unknown Public.
Među njegovim najznačajnijim projektima su The Debussy Studies Project i Les Enfants de Rameau. 1997. godine, pod pokroviteljstvom Arts Council of England, Gutman je od dvanaest kompozitora poručio kompozicije koje su, na neki način, odslikavale dvanaest Debisijevih etida. Dve godine kasnije Les Enfants de Rameau dobija značajno priznanje kritike i publike. Slede Satijev ciklus u Dartingtonu 2001. godine i uspešno izvođenje Birtvistlovih kompozicija Harrison's Clocks (2000) i The Axe Manual (2003) u Lodonu, što je učvrstilo njegovu reputaciju. 2004. godine napravio je seriju muzičkih događaja baziranu na kratkoj fantaziji Edvarda Gibonsa, kompozitora iz XVI veka, What strikes the Clocke. Povezao je, na ovom projektu, profesionalne muzičare, studente nekoliko muzičkih škola i kompozitore različite starosti i iskustva. Projekat je ušao u Ginisovu knjigu rekorda kao najveći broj premijera u toku jednog izvođenja. U toku 2004. godine u Škotskoj je premijerno izveo klavirski koncert Century Rolls Džona Adamsa, a 2005. godine Tippett Concerto. Budući projekti uključuju snimanje celokupnih dela za solo klavir Žana Filipa Ramoa za izdavačku kuću Toccata i klavirska dela Džudit Bingam za Campion.
Stiven Gutman nastupa i u kamernim ansamblima gde je radio sa mnogo značajnih svetskih muzičara.
Nekoliko citata iz britanske štampe najbolje govore o veličini ovog pijaniste:
One of the most rewarding and stimulating concerts of the entire concert year……Gutman's commitment and bravura made for passionate three-dimensional Rameau……it was with a sense of mesmerised wonder that the audience listened as the theme momentarily sank into a turn-of-the-century armchair in Dukas's reinvention……Then, after the interval, more small wonders...

(The Times)
A piano solo superbly played by Stephen Gutman...

(The Sunday Times)

Gutman's delivery was elegant and poised, delightfully shaping this courtly music……a fascinating barometer of current musical fashion……a splendid addition to any new music festival.

(The Independent)

(Birtwistle's) Harrison's Clocks, played with electrifying intensity……as Stephen Gutman's performances made superbly clear, a musical surface of sometimes violent chaos results from the precise workings-out of superimposed layers of music.

(The Guardian)

Stephen Gutman's pyrotechnical virtuosity gave the best possible first performance……elegantly explosive in Gutman's performances.

(The Guardian)

One of the best younger exponents of modern repertoire

(The Sunday Times)
[home]